In my last article on the most expensive smartphone in the world, i promised to make a list of the most expensive smartphones in the world if you commented. The article didn't get many comments but i still have to fulfill my promise.If you didn't a chance to read the article, you can click on my profile and check my previous articles.
Sometimes you get angry when talking to someone on the phone and you feel you want to send it flying through the air or just smash it in a wall. Sometimes you even sit somewhere and forget your phone or even loose it in your own house. For the phones you can't afford that. You can smash them nor loose because of their worth.
Since i already talked about the most expensive phone in the world in my last article, i'm not going to include it in this article.
1. iPhone 5 Black Diamond – $15.3 million.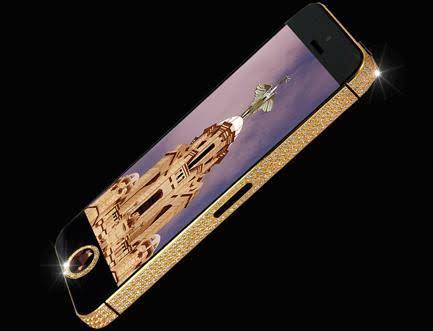 This is the 2nd most expensive phone in the world priced at around $15.3 million.This phone is designed by Stuart Hughes, a luxury company which also holds the record for the most expensive TV. The phone is covered in gold, precious stones and true to it's name, a very expensive black diamond.The iPhone includes 600 flawless white diamonds, a full solid gold dressing and 53 diamonds making the Apple logo.
2. iPhone 4 Diamond Rose – $8 million.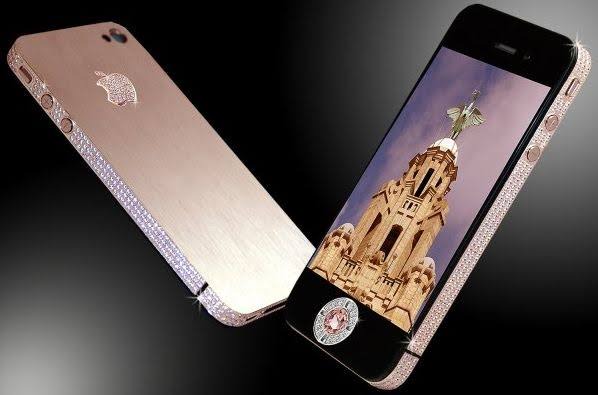 The phone is fit for the loyalty or people with super egos. Otherwise i don't know why anyone would spend so much money on a phone.Designed by Stuart Hughes again, the phone has it's sides studded with 500 alluring diamonds. The made is made rose gold with the Apple logo studded with 53 diamonds and the center navigation button is a single cut 7.4 carat pink diamond.
That's not all. If you purchase the phone it will be delivered to you inside a solid granite box. Cool right. But the phone's price tag can also buy you several houses which is why it's only meant for those who got nothing to loose.
3.iPhone 4S Elite Gold – $9.4 million.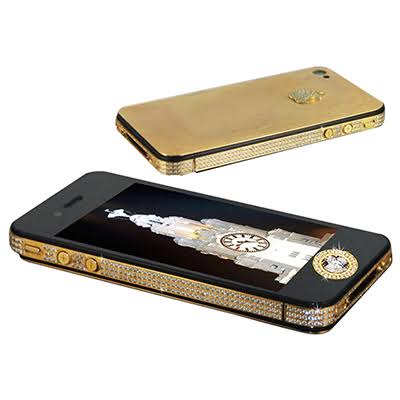 Another ridiculously expensive apple smartphone from Stuart Hughes. The bezel on this phone is handmade from a rose with approximately 500 individual flawless diamonds, which total over 100 ct. Even i don't know what that means.
The rear is made of 24 ct gold with the added touch of its 24 ct gold Apple log and 53 diamonds.The gadget is also covered with dinosaur bones, making it more attractive. Only 2 models were made.
4.Supreme Gold striker Iphone 3GS – $3.2 million
Also designed by Stuart Hughes, the phone is worth $3.2 million.The iPhone is made of 271 grams of 22 carat gold. It's bezel contains 136 diamonds and the logo studded with 53 jewels.The gold striker also has a single-cut diamond for it's home button with 7.1 carats.The iPhone is also delivered in a granite box that is made from a single piece of granite embellished with Kashmir gold and top grain leather.
5.iPhone 3G King's Button – $2.4 million.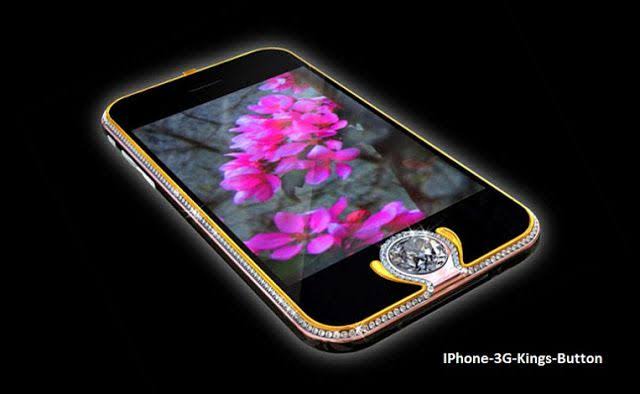 This expensive gadget was designed by the Australian jeweler Peter Aloison. The apple smartphone is made of solid 18 carat yellow gold, white gold and rose gold. It also has a white gold line encrusted with a total of 138 brilliant-cut diamonds of the best quality for loyalty.The most prominent feature of the smartphone is the 6.6 carat diamond used as it's home button.
6. Goldvish Le Million – $1.3 million – $1.3 million.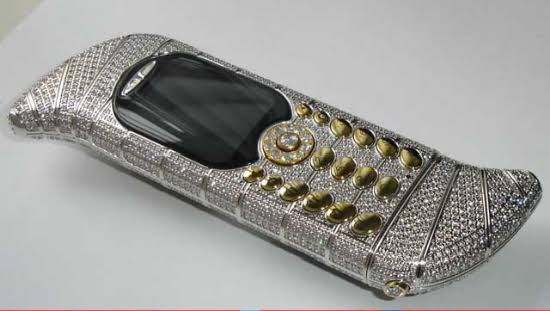 This phone has a really unique design but from my point of view it is really ugly. Comparing to the standards of the modern smartphones, it actually thick and has a really small display. The secret to it's high price tag is however not in it's specifications but it's design and components.
Designed by Emmanuel Gueit, the phone outshines with 18 carat Gold, and on top of this are 120 carat diamonds encrusted over it.The gold enamel makes the devices look really luxurious. Only 3 pieces were ever produced ad it is available in colors like yellow, rose, white and gold.
7. Vertu Signature Cobra – $360,000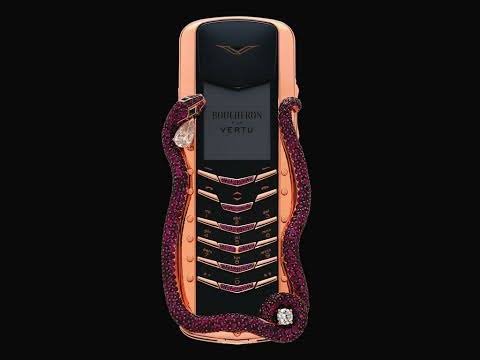 This phone is designed by the luxurious brand Vertu. The limited edition devices is worth $360,000. The phone stands out due to the cobra on it's front panel. Obviously the cobra is not alive but has a solid placeholder made of 439 rubies that have been shaped around the phone's keypad. Another 388 more rubies are used to make other parts of the entire phone. This phone has a ridiculously small display which makes me wonder why anyone would even buy it apart from being a show off.
One thing is similar about all the devices in this list, that is they have gold or other precious stones carved into them. The phones also seem come from the luxurious brand Stuart Hughes which has designed most of devices in this list.
To be honest most people on this earth will die without ever setting their eyes on one of these devices. Owning one of these devices doesn't mean anything anyway since you can do much more productive things with the money rather than purchase a ridiculously expensive smartphone.
As always if you want me to write an article or review of a device, just write it in the comment section.