Huawei's latest announced smartphone is the Huawei Y7P. We all know that Huawei is huge company and it actually produces really good budget smartphones.Their high-end devices are also very popular, like the Huawei P30, and they always have a lot to offer.This time huawei has decided to give us a budget smartphone which i think has it all. The Huawei YP7 is expected to be launched in Kenya April 17th of 2020 for around Ksh 14,000 – Ksh 19,000.
I always encourage people to purchase a smartphone depending on the purpose of the device. I know all smartphones are used for communication but someone whose going to do some heavy on a phone, there are certain properties you should for in a phone.In this case, it think the Huawei Y7P, based on it's specifications, is a multi-purpose device. This is why i think, the Huawei YP7 is the perfect budget smartphone that can meet all your needs.The phone comes in 2 colors;Aurora Blue and Midnight Black. I however think the Aurora Blue is perfect as you can see from the picture below.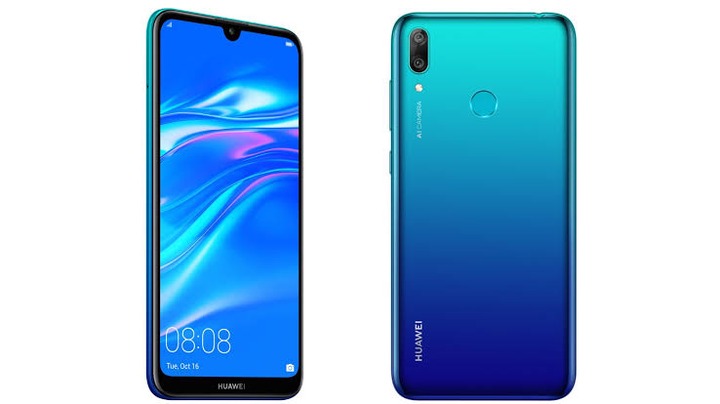 The phone isn't too huge as it comes with a 6.39 inch IPS LCD capacitive touchscreen which i'm sure it will not be hard to handle for those who have small hands. The phone also rock the punch hole display. We all love this new feature on smartphones. I love it when a device doesn't have that annoying notch at the top and bottom. Just a full display.
The display has a screen resolution of 720 x 1560 with 269 ppi. The display size is big enough for any gaming or movies you're going to watch on it. As for the screen resolution, we couldn't expect it to any higher as it a budget smartphone. The resolution is however not bad as i'm sure it will still be clear and detailed.
This phone stills offers a lot under the hood. The phone runs on a Hisilicon Kirin 710F chipset. As for the CPU, the phone runs on an octa-core(4×2.2Ghz Cortex-A73 & 4×1.7 GHZ Cortex-A53). I might not into details to avoid making the explanation all complicated. All you should know is that the CPU on this smartphone is powerful. The CPU,paired with the Mali-G51 MP4 GPU that it ships with,can run your games and other activities smoothly without lag.
These days smartphones are not really disappointing when it comes to memory. Almost any smartphone being released nowadays has an internal storage of about 32 GB or more. The Huawei Y7P is no exception as it comes with 64 GB of internal storage paired with 4 GB of RAM. This is actually really amazing considering the phone is a budget smartphone. The storage is enough for hundreds of videos and apps. As for the RAM, it is quite enough to run the phone smoothly even under load. This is another reason why i would recommend this device to anyone.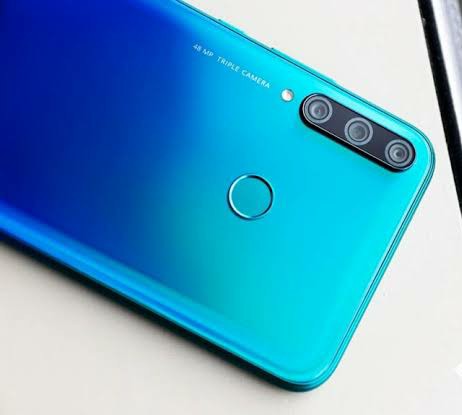 These days you wanna buy a smartphone with a good camera to capture those special moments. The camera is this phone is amazingly huge. It is actually the key feature of this device. The phone has a triple camera setup at the rear. The setup houses a 48 MP main camera, 8 MP ultra-wide camera and a 2 MP depth sensor. We've seen the 48 MP camera on other latest devices like Tecno Camon 15 and the Infinix Note 7. This size of camera is really good at taking pictures. The pictures from this size of a camera will surely be crystal clear and very detailed.
For the selfie camera which is placed on a small hole on the front display, also known as a punch hole design, is an 8 MP camera. This might not be very pleasing, but considering it is a budget smartphone, it was obvious something was going to be cut down a little. The 8 MP camera is not that bad as I've used a phone with one before and what i can say is that it can produce decent pictures but don't expect too much. Considering the low resolution of the display, the pictures might not be very detailed.
The phone on this phone is actually quite huge. The phone comes with a 4000 mAh battery with a 10 w fast charging capability.It might not be biggest we've seen but considering the price of the device, this is a pretty good deal.This size of battery will take you for a whole day without charging if you're a light smartphone user. It actually has the same battery size with the latest Tecno Camon 15 pro which actually lasted a few days.
As i said before, this is a perfect smartphone. The display is huge, the memory is enough and the battery is also really good. The specs on this device makes it a multi-purpose device. I always encourage a 4000 mAh battery and above for a smartphone which is going to be playing some games. This feature is readily available on this device.
On the other hand, there are some few deal breakers. The phone comes with a micro-USB rather than a USB-Type C as you can see below.

The phone will also not play heavy games like PUBG in full graphics settings considering the CPU onboard. The phone can however be used for light gaming. However if you're a light smartphone user, i would encourage you to get the device as soon as it launches.Based on the specifications, it will surely give you a smooth experience. Other budget smartphones with the same properties are the
Tecno Camon 15
and the
Infinix Note 7
which I've already done reviews on if you'd take a look at my previous articles.